Back-to-School Shopping Moms Not Looking to Social Media for Promotions
Social Media

June 23, 2011 -- A back-to-school survey of moms finds that moms are not looking to social media for information about back-to-school products and promotions.

The 2011 Back-to-School Shopping Survey, conducted by School Family Media, a marketing company focused on promoting meaningful parent involvement at K-8 schools, was garnered in June 2011 via an online survey with 1,550 U.S. women from all 50 states with school age kids responding.

According to the survey, respondents reported that Facebook and Twitter were their least preferred method for receiving information about back-to-school products and promotions. Most preferred methods were emails directly from brands or retail stores, followed by Sunday newspaper inserts, personal referrals from family and friends, brand/store websites, magazines, and radio/TV.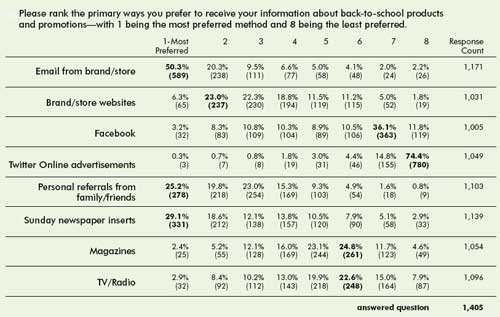 "Despite the emergence of new technologies and communication platforms, moms aren't planning on utilizing these much when it comes to their back-to-school shopping. In fact, social media was moms' least preferred method for receiving information about products and promotions,"
said John Driscoll, President – Consumer Connections, School Family Media.
Additional survey findings: moms are making majority of purchases at actual stores vs. online and are planning to spend more this year, compare to last year, yet value appears to be more important than ever, as the vast majority (75%) listed price or coupon/promotional offer as the biggest factor influencing their purchases followed by quality, convenience, and selection.

About:
Survey data was gathered via an online survey conducted in June 2011 with 1,614 respondents across 50 states (97% female, 3% male). Respondents represent ages 18-59; more than 50% were between the ages of 35-44. Close to 75% of respondents represent household incomes range from <$35K to $100K and 25% represent household incomes from $100K to $300 K. The question above was answered by 1,405 respondents.
Source:
School Family Media press release,
New Survey Reveals When it Comes to Back-to-School Shopping, Moms Are Still Old School
, June 23, 2011.